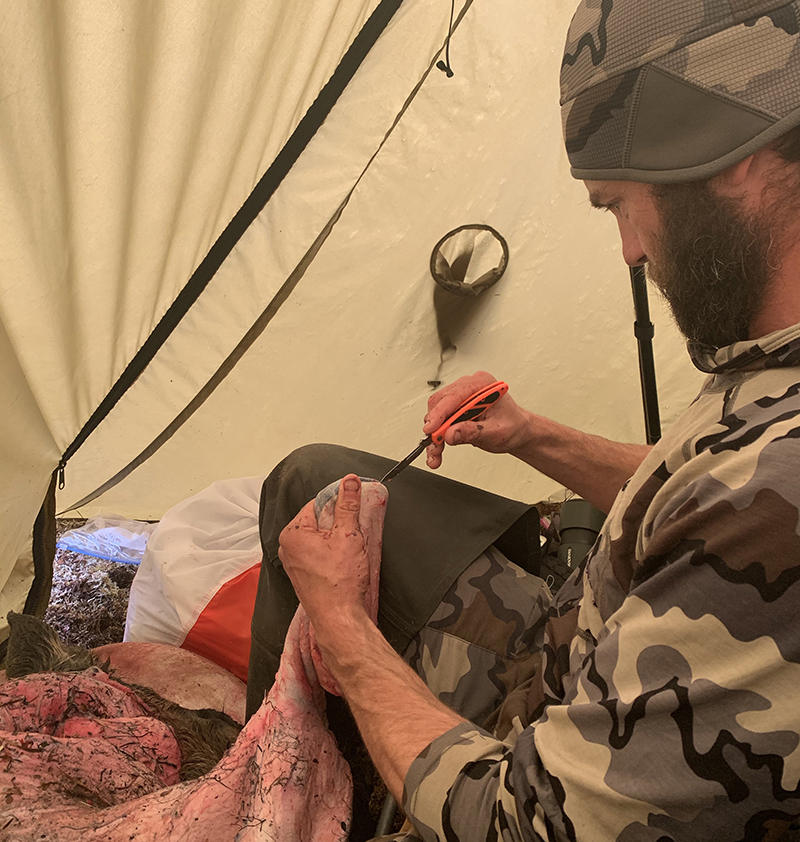 I spend as many as 100 days in the bush of Alaska each year. Given the remoteness of my hunts and the use of lightweight airplanes, I am forced to keep my gear to an absolute minimum. To ensure safety, success, and overall enjoyment, I can only afford to use the best. Like anything, you get what you pay for. If you buy the proper gear you don't need much of it and you will enjoy the use of it for years to come. If you have inferior equipment, sooner or later, the Alaskan elements will exploit it and you will not be able to enjoy your experience. Trust me, when you experience some real Alaskan weather, you will not regret one penny spent on your gear.

Below is my personal Alaska hunting gear list.
Ammunition
When shot out of a .375 H+H, I feel a 300 grain Barnes Triple Shock is the ultimate ammo for moose and bear. For sheep and caribou, or all-around ammunition, I have seen great results with Nosler Partition. 20 rounds is sufficient.
Boots
I've had good luck with Crispi "Hunter GTX" and the "Guide GTX". That said, what works for one person may not work for another. When you find a boot that works for you, stick with it. The steeper and rougher the terrain you hunt, the stiffer/higher quality boot you will need. Meindl, Kuiu, Scarpa, Lowa, Kennetrek, Zamberlan, and Hanwag are good brands. A good after-market insole is also recommended. I've had good luck with "Foot Levelers" custom foot beds. Wet, cold feet are no fun. When I can, I bring 2 sets of boots. An extra set of insoles is also useful, particularly if you don't have an extra pair of boots. If you allow yourself one "luxury item" make it a second pair of boots. 0-400 grams of insulation is good for early season and sheep hunts. 400-800 is ideal for late season, or hunts where you're not as active.
Boot Gaiters
Kuiu Kutana gaiters are a good lightweight option. Their "Yukon" gaiters are very durable and the best all-around option.
Camp Chair
I highly recommend bring a packable, collapsible camp chair. My clients and I all love the Crazy Creek High-back chair
Camp Shoes
It is nice to take your boots off when you get back to camp. I use Merrell slip-on shoes. Crocs with no holes also work. Xtra Tuf neoprene knee boots are very lightweight and can be used for everyday-use on bear, caribou, and moose hunts.
Fleece Sweater
1 – I wear Kuiu's StrongFleece Hybrid 260 Zip-T Hoodie everyday in the field.
Gloves
3- Kuiu makes the best hunting gloves I've ever used. I use their Attack and Strong Fleece gloves for every hunt. If you're sheep hunting, or on any backpack hunt where weight is a premium, hunters should also have a pair of Super Down PRO Glassing Glomitt. If weight isn't such a concern I prefer the durability and utility of the Northstar glove.
Hats
2 – 1 baseball type and 1 stocking hat. I prefer a stocking hat that completely covers my ears. Most of todays' models seemed designed more for looks than function, and don't set very low on the head, especially down on the ears. I used Kuiu's Peloton 240 Beanie this year and really liked it.
Hip Boots
La Crosse ankle fit with Air Bob soles are the best. All hip boots are heavy and don't breath, but on some moose, caribou, and bear hunts they are required. Wiggy's over-boot waders are very popular and work well for an occasional creek crossing, but will only standup to a handful of uses. Many guides use waist-high breathable waders. While they are louder and don't have the durability of hip boots, they are much more comfortable to use on hunts where you know you will frequently be wading in water.
Knife
Guided hunters should bring a Leatherman or similar tool, and maybe one small skinning knife.
Light Jacket
1 –  Kuiu Super Down Ultra is great. First Lite's Cirrus Ultralight Puffy is also good.
Long Sleeve Thermal Shirt
2 – Again, I like wool if I'm wearing it against my skin. If it's not against my skin I prefer synthetics. Kuiu's Ultra Merino 125 LS Crew-T and the Peloton 118 LS Crew-T
Long Underwear
2 – I'm sold on the function and performance of Kuiu's "zip-off" base layers. I bring 1 light and 1 medium weight. The Peloton 97 Fleece Zip-Off are great. Ultra Merino 145 Zip-Off's are perfect for cold/stationary hunts.
Miscellaneous Items
Headlamp
Insulated coffee mug with lid. Needs to be short with wide base to it's stable on tundra/uneven surface.
extra insoles for boots
small, inflatable pillow. Sea-To-Summit makes a good one.
Camera
Personal kit-medications, toothbrush and paste, floss etc. No scented colognes or deodorants
spare batteries for all electronics
small roll of electrical tape for your rifle muzzle and other uses that may arise
lens cleaning tool
sunglasses
belt
lip balm
sunscreen
ear plugs if you or your partner snore, they also help on windy nights
watch
2 small/med. waterproof stuff sacks for your gear
a fifth of firewater if you're a drinking man
journal and pen
Emergen-C drink packets, Wilderness Athlete drink mix, vitamins, favorite snack food/energy bar
2 small packs of baby wipes
leather belt case for ammo
book for weather days in the tent
you may wish to bring your own satellite phone or DeLorme inReach*Bring 2- 35-liter and 2- 20-liter waterproof stuff sacks to put your gear in before loading on to bush planes, particularly Super Cubs.** Buy a quality "double rifle" case for travel. Remove the foam inserts. Pack clothing around your rifle, and you will easily fit everything you need for your hunt in 2 checked bags and one small carry-on.
Neck Gaiter
1 – A light wool Neck Gaiter is a must have for any Alaska hunt. Kuiu and First Lite make great ones.
Optics
Leica, Swarovski, and Zeiss are the best. A quality pair of 10 power binoculars is required. Guided hunters should contact their outfitter if they need a rangefinder or spotting scope. If your guide has quality gear, I would tend to leave the latter at home.
Outer Jacket
1 – I use Kuiu's Super Down Pro. This is a must have on any Alaskan adventure.
Pack
Stone Glacier packs are worth every cent. They are very durable and lightweight. This past season I used Kuiu's Pro 7800. I found it to be very durable, versatile, and extremely comfortable. I'd highly recommend either pack. A 4500 cubic inch bag is a minimum for a guided hunter on any wilderness hunt conducted on foot. 5,000-6,000 is ideal. If you are DIY for caribou or moose you will need at least a 6,000.
Pants
2- I like to have 1 lightweight and 1 medium. For Alaskan hunts stay away from heavy pants. My favorites are Kuiu's Kutana and Attack pants, as lighter options and the Talus Hybrid for medium. In addition, I also highly recommend bringing a pair of easy-on/off puffy pants. Kuiu's Down Side-Zip are a must have for any Alaskan hunt. They zip all the way on and off on the side of the leg. When I get to my glassing location I am able to zip them on over my regular pants and boots. When it is time to leave or go on a quick stalk, simply zip off each leg, stuff the pants in the pack, and take off. Stone Glacier puffy pants are also excellent.
Rain Gear
1 set- Kuiu Kutana is an excellent lightweight, all-around choice, and ideal for sheep hunts. Kuiu's Yukon rain gear is my choice for late season hunts, and coastal hunts where weather can be extreme.  Stone Glacier M5 is also very good.
Rifle
A stainless synthetic model is a good idea for Alaska, but above all else, use a weapon that you are comfortable and familiar with. I would rather have a client use a rifle they know than buy a new magnum caliber that they are scared to shoot or unfamiliar with. A .243 is a minimum for caribou and sheep. A .300 or .338 magnum is good for moose and grizzly. A .338 is a minimum for big brown bears, with a .375 being preferred. A 3-9X or higher variable high power scopes is good for all ungulates. For bear bring no more than 2-7X, preferably 1.5-6X.
Sleeping Bag
Montbell and Kuiu are excellent. I prefer Kuiu's QuixDown to save on weight and space. A 20 degree bag for warm weather/backpack hunts, a 0 degree bag for colder hunts where an extra pound or two isn't a concern.
Sleeping Pad
I use a Thermarest "NEO-Air". It is relatively lightweight and twice as thick as most pads. Quality rest is critical. Another must have.
Socks
5 – Kuiu and Darn Tough are good. I like them over-the-calf. I bring 2 heavy pairs and 3 light/med. pairs, along with 2-3 pairs of sock liners.
Tent
Stone Glacier's Skyscraper is a great, lightweight option for up to 2 guys. Note: It's a tight fit for a couple big dudes, so prepare to get very well acquainted! Seak Outside tipi's are great for fly camps/sheep country. Hilleberg's are a bit more weight, but bombproof. Kuiu tents are also a goo lightweight option. Cabela's geodesic tents are heavy, but roomy, and suitable in areas with moderate winds. Cabela's XPG is again, heavier than earlier models, but roomy and stands up to extreme weather. **Note: You will mostly likely not need to bring a tent on a guided hunt.
Trekking Poles
Leki is a good brand. I use trekking poles in some capacity on all my hunts. They are lightweight, collapsible, and a tremendous aid for climbing mountains and packing heavy loads.
T-Shirts
2 –I like merino wool against my skin. Kuiu's Ultra Merino is great. First Lite also has excellent wool shirts.
Underwear
3 – Kuiu's Peloton Boxer briefs are great First Lite "Red Desert" or "Aerowool" Boxer Shorts are also very good, but wear quickly.
Vest
1 – I prefer a puffy vest. Kuiu Kenai Ultra and Super Down Ultra are great.
Water Bottle
I like a 1-liter bottle. I typically don't use a filtering water bottle, but Katadyn is a good brand. Check with your outfitter if your water will need to be filtered.
Like anything, you get what you pay for. The above-mentioned items easily sustain me for 100 days in the bush each season. If you buy the proper gear you don't need much of it and you will enjoy the use of it for years to come. If you have inferior equipment, sooner or later, the Alaskan elements will exploit it and you will not be able to enjoy your experience. Trust me, when you experience some real Alaskan weather, you will not regret one penny spent on your gear.    -Billy